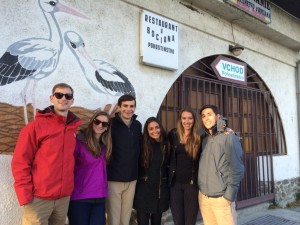 One Sunday afternoon I took on the tour bunch of americans living in London. They decided come to Slovakia for weekend trip. After short meeting and introduction at SNP square in Bratislava center I packed them into green Volkswagen Transporter. After 20 minutes of rolling on the highway towards Prague I took exit to Zohor. We were heading for our first experience in region Záhorie into the Plavecký Štvrtok. First stop was so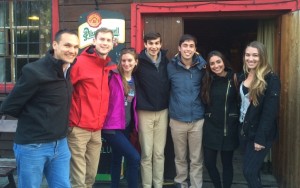 called Bocian Pub. In translation Stork Pub. Although owners are stating it is restaurant I never had meal over there. Unfortunately we haven't managed to see any storks but there was other adventures aw awaiting for us. We took seat in nice yard outside the traditional village pub. I went back to the counter to order local beer for american lads. Looks like its a bit of hassle every time I want to invite people for the fresh pint of original slovak beer. Mosts of the pubs carry only czech beers on draft. So I had no option to order only Starobrno which is beer from Morava region in Czech republic. Czech beer has very good reputation among people in Záhorie,that is also most probably the reason why owners of pubs preferer these brand. They are afraid they would loose their customers if they serve not good beer on draft. Most of the traditional slovak beer brands was purchased by Heineken corporation. So if someone offers you Zlatý Bažant (Gold Pheasant) like slovak beer I would be careful with this assignment. Pouring of 6 beers took a little while,so I had the chance to experience almost incident between regular customer and young kids who was also waiting for drink. Kids were commenting outlook of the guy quietly waiting for his drink at the end of the counter. Comments they made was more less between themselves, but it was rude and everyone in room could hear it. Man jumped very quickly to the kid and tried to defend himself. I just happened to be in the middle of the incident so I tried to calm them down and try to say few words to the kid about his behaviour. After while emotions went down and I could carry the pints for my guests. Meanwhile mine guest where waiting in the yard and some local unshaved man was approaching to them and tried to speak with them in slovak. Of course they didn't understand anything. But he keep them entertained until I returned. Finally we cheered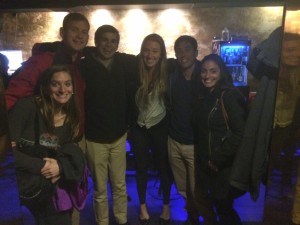 up with beers together with words "Na zdravie" and "A na nás!". After while owner of the pub called me back to the pub and try to explain permanent situation with the kids and troubles they causing every time they come. When I got back my guest looked happy and they went well with the beer. I asked if everything was ok, they laughed. After while they said jokingly that they feel safer when I'm there.  Im sure that there was no serious trouble for them because they where my guests. We hit the road for my born village L.A.B (Láb). In the Láb we choosed small pub just outside village on the main road towards Jakubov. Name of the place is Čapáš (czapasch) and Pub is nicely decorated with wood, has also nice wooden benches outside and also sand pit and playground for small kids. This time we ordered pint of Staroprameň, czech beer again 🙂 Party went well and after nice chicken breast steaks and fried cheese we where ready for the next pub. But before we left there was time for last shot of local Slovak liquor Borovička(borowitchka). This is typical drink locals like to drink. Its liquor flavored with juniper berries which contains 40% of alcohol. It goes well with small beer like chaser. But please be careful with amount you drink during evening. Czech beers has quite strong sales department in Slovakia and Slovaks like to drink them. For tourists I recommend to try beers from local micro breweries. That's why next stop in our tour was pub in near city Stupava which is serving local beer Stupavar. Brewery was started just in 2012, but since then became popular also in Bratislava pubs. There is quite more stories to share with you from Village Pub Crawls I did before. Unfortunately there is no more space at this page. I would be more than happy to guide you and share my experiences. Tour is suitable for individuals or organized groups who are tired of mass city tourism and want to experience something different and get taste of authentic slovak life in country side.
Private tour guide:
Ondrej Štefek,+421-911-77-33-22,
email:
ondrej (dot) stefek (at) tourguide (dot) sk
Duration:
4-5 hours
Availability:
all year round
What is included: 
Transport, guide, 4 drinks (beer etc.) and 1 authentic pub snack
Meeting point: 
Your ho(s)tel in Bratislava at 4:00pm (or according to agreement)
Price per person:
 €29 per person (price is valid for minimum 4 passengers)
Tour operator:
Authentic Slovakia,If you want to me to be your private guide on this tour  please copy this line to comments of booking form: "I want to request Ondrej Stefek as tour guide".
BOOK THIS TOUR NOW