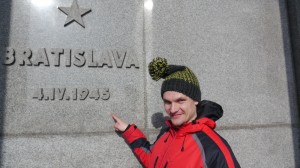 It was my pleasure to guide 4 lads on post socialistic tour with Authenticslovakia tour agency. 2 hours we spent driving and visiting places like World war 2 memorial called Slavin. Heaps of snow in February didn't allow us to explore more former iron curtain at the end of town. But we had chance to explore other free outlooks on Bratislava. Interesting was outlook from hotel Bôrik. People during communistic regime could mostly look behind borders on the other side of Danube. While the borders was heavily guarded there was quite difficult to get travel permit.
Reviewed 20 February 2015
NEW
After a work visit in Vienna, we decided to check this tour out. Our host was Ondrej who was so knowledgeable, gave us insight to the history of Bratislava with a genuine tour across the city. Not only were we shown key city spots, war memorials and skyline views from Ondrej, but there were a few extra treat surprises along the way to add to this awesome tour.
For two hours, the value of this tour is absolutely worth it and a total must do for anyone who comes to visit this incredible city!
Thanks again Ondrej!
PS Ondrej, if you're reading this, feel free to post up the photos you took of us 🙂
Visited February 2015